American Indian Arts Celebration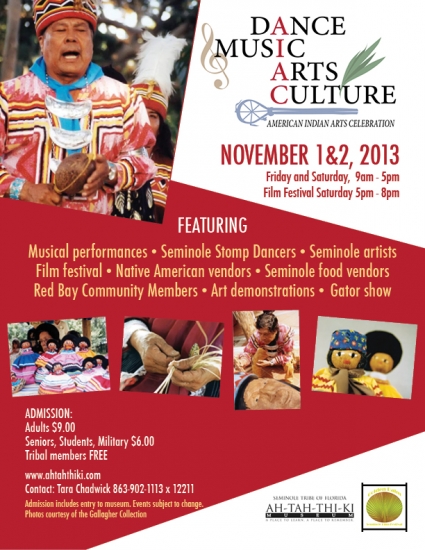 If you were vacationing near the Grand Canyon, you surely would make a side trip to see it.
You have a similar opportunity while staying in a Marco Escapes property here on Marco Island. To the east and north a few miles, lies the Big Cypress Seminole Indian Reservation and the Ah-Tah-Thi-ki Museum; a storehouse of Seminole Indian history and culture with over 30,000 artifacts.
The weekend of November 1st and 2nd, the Seminole Tribe of Florida is hosting an American Indian Arts Celebration featuring dance, live music, arts and culture from 9am – 5pm. There is also a film festival Saturday evening from 5 – 8pm.
Admission is $9 for adults and $6 for seniors, students and members of the US military. Tribal members are free.
For more information, call 877-902-1113 or visit the tribal website.