Are you a resident of Marco Island? You may be and may not know it.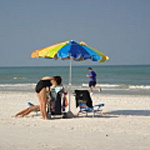 Marco Island's Residents' Beach is one of the city's most beautiful beaches, some say in the world. As the name implies, access is limited to Marco Island residents, with one exception
If you are renting a Marco Island residential property for a month or more, such as the beautiful, luxurious Marco Island vacation rental properties of Marco Escapes, you may apply for a Residents' Beach "membership". This grants you access to the Residents' Beach for a year, and includes access to Sarazen Park. Both are managed by the Marco Island Civic Association (MICA).
The membership includes use of the Paradise Grill, with shaded tables, convenient parking, restrooms, showers and other valuable amenities. Plus amenities at Sarazen Park.
Application for annual membership can be submitted through http://www.marcocivic.com. Information via telephone is available at 239-642-7778.