"Art" comes to Marco Island. But not just any "art".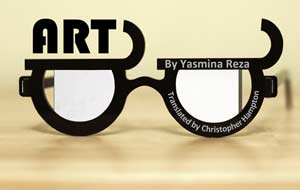 In the tradition of excellence pursued by Marco Escapes, we are pleased to point you to a new stage production by the Marco Players.
"Art" is a 2007 Tony Award winning play by Yasmina Reza. Originally written in French, it was translated into English by Christopher Hampton before appearing in NYC. The plot involves three friends and a painting, the latter a white canvas with white lines.
The friends have different reactions to the painting when it is presented to them by the new owner. These differences trigger disagreements so extreme that they threaten friendships of many years in duration. The play's setting is minimal, with focus on the crumbling friendships, the true cause of their deterioration and the tension generated by the controversial and, as it turns out, expensive, "art".
The Marco Players, in its 39th season, is presenting "Art" from March 19 through April 6 at the The Marco Players venue, 1055 North Collier Boulevard, Marco Town Center Mall, Marco Island, FL Tickets may be purchased on line at http://themarcoplayers.com/ or by telephone at (239) 642-7270