Avow Hospice Regatta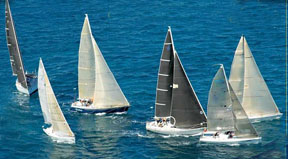 Before the big Thanksgiving weekend sales, this weekend has a big "Sail" – The Avow Hospice Regatta 2013.
The annual event will be held on Saturday, November 16 and Sunday, November 17 off the shore of Marco Island. There is something special about a regatta, (a nautical name for a boat race). The graceful competitors glide on the wind like low-flying birds. Movements are carefully choreographed to give each boat the advantage of the next turn or change in wind. Yet, it is fiercely competitive as captains vie for position to cover another boat's wind and keep their own sails full.
Here's what's in it for spectators:
There will be a memorial ring ceremony at 10 AM followed by the start of the race at 10:30 AM. Non-sailors can participate and observe from the official spectator boat. The passage is $30 per person and includes lunch. The spectator boat is a great way to watch from a safe distance and avoid interfering with the racing boats. If you take your own boat out to the racing grounds, please observe the same rules and courtesies. Alternatively, you can join a beach party from 10 AM to 2 PM on Saturday, sponsored on Resident's beach by the Marco Island Civic Association. The party is free and will include games and race commentary.
On Sunday, there is a shore party at the Marco Island Yacht Club, beginning at 5 PM. Admission is $75 per person and features the awards ceremony, cocktails, games, musical entertainment and a silent auction followed by a buffet seaside dinner, all to benefit Avow Hospice in Collier County. The winning skipper and crew will represent Avow Hospice in the 2013 Hospice Regatta's National Championship in April.
If you are spending this weekend in a Marco Escapes vacation rental property, and looking for an excellent way to spend this weekend outdoors while helping a great cause, contact, please visit the Avow website for more information and to purchase tickets.