Celebrate Independence Day with Marco Escapes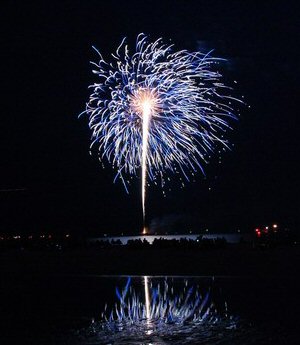 July 4th fireworks from Residents' Beach, Marco Island.
You're invited to celebrate the nation's birthday in high style on Independence Day – July 4, 2013 – on Marco Island or Naples. Marco Island's fireworks, shot from an anchored barge are always an amazing site and the display off of the Naples Pier is brilliant!
This year's Marco Island July 4th celebration, presented by the Marco Island Civic Association, will be held from noon until 9:30 p.m. at Residents' Beach, 130 S. Collier Blvd. (parking and entrance restricted); Fireworks will start at 9 p.m.
Meanwhile, Collier County Parks and Recreation Department will celebrate both Independence Day and National Parks and Recreation Month at a free, Fourth of July celebration at Sugden Regional Park, 4284 Avalon Drive, Naples on Thursday, July 4, from 4 p.m. – 10 p.m.  An ice cream social  from 4 p.m. – 6 p.m., will be followed by a live band playing old-style big-band music from 7 p.m. – 8:30 p.m., and an amazing fireworks display at 9:15 p.m.
Bring your lounge chair or blanket for a night on the beach – Come join the party!