Did you bring your brain to Marco Island?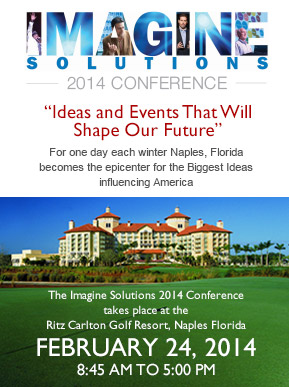 We know that people who vacation in an elegant Marco Escapes rental property are smart, by definition. We suspect they may also be hungry learn more.
Here's news for our inquisitive thinkers.
The IMAGINE SOLUTIONS 2014 Conference is taking place in Naples on February 24, 2014 at the Ritz Carleton Golf Resort. With so much to learn from 27 world class intellects in five thought provoking sessions, this not a two hour event. It starts at 8:45 and runs until 5.00 pm.
Topics to be covered are :
"The Greatest Challenge for Science in the 21st Century – The Brain Initiative"
"What Can We Learn from History?"
"Revolution in Education – Online Education"
"An Audacious Potpourri – Inspiring Leaders"
"The Future of Exploration"
In addition to brilliant speakers, there will be multiple "breaks" for networking and discussion of ideas that have been stimulated by the subject matter.
Tickets are limited by the number of seats available for the full event and are $600 per participant. Call 214-205-2274 214-215-6000 to order or obtain more information