From Marco to Key West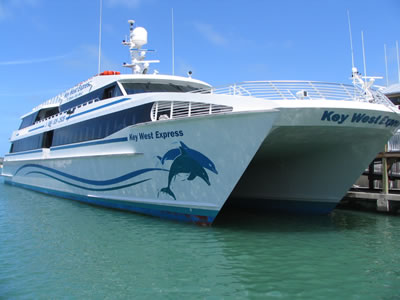 One of the great things about staying in a Marco Escapes property is the many things to do on Marco Island.
One of the most memorable is a day trip to Key West. No, it's not the 5-hour drive to outskirts of Miami and then south down the causeway to the Key. Granted, the causeway can be an interesting ride – once. Of course, the trip back is more of the same. And then, there's the gas and wear tear on the driver. Hardly a "day trip".
On the other hand, there is an easier, more enjoyable mode of transportation. The Key West Express leaves each morning, in season, from the Marco River Marina and returns to the Marina each evening. You don't even have to spend the night to get a taste Key West magic, although you can and come back the next day if you like.
Key West Express takes you to Key West in comfort in approximately 3.5 hours. It's a fun trip with tasty treats, beer and wine, and mixed drinks in the ship's galley and bar. The vessel is a 170-ft. catamaran with turbo diesel engines, large flat-screen TVs with satellite television, and state-of-the-art electronics and navigation equipment. It's non-stop from Marco Island to Key West and non-stop back at a very reasonable fare.
Besides the tantalizing destination with numerous uniquely Key West diversions, the Key West Express glides smoothly over the near-shore Gulf and the waters of Florida Bay. The experienced, friendly crew helps guests find their way around the ship and are happy to answer questions guests may have.
We should point out that it's fair to label the Key West Express as the "Marco island Express" when it leaves Key West for Marco Island, so Key visitors can get a taste of the magic of Marco too. It only seems fair.
The Key West Express departs Marco Island from the Marco River Marina located at 951 Bald Eagle Drive, Marco Island Fl. 34145
Visit their website at seakeywestexpress.com or call (888) 539 2628 for more information.