Glory of the Grape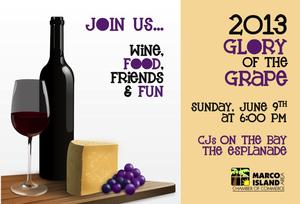 What is "oenology"? It is the study and appreciation of wine.
If you are an oenologist (and who isn't?), you will glory in the news that this year's Glory of the Grape event is scheduled for June 9, 2013. This Marco Chamber of Commerce event includes tastings of fine wines, extensive hors d'oeuvres and an auction of items donated by Chamber members.
The party will be held at CJ's on the Bay, 740 North Collier Blvd., starting at 6:00pm, under the argis of the Marco Island Area Chamber of Commerce, the Naples Daily News and the Marco Eagle. Tickets are $50 each and are on sale now at the Chamber office.
Be there. And lift a glass to the Glory of the Grape. Salute!