Goodland Gears Up for Season!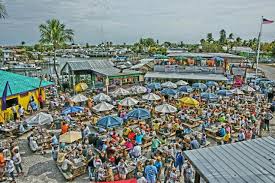 It's that time of year again!  Season is just around the corner and what better place to kick off the celebration than our own little town of Goodland, Florida?
Goodland is a tiny community located off of State Road 92, at the southeast corner of the island.  Home to only 200 residents, this fishing community continues to buck the significant developmental changes around it.
Every Sunday, hundreds of residents and visitors make the pilgrimage to Stan's Idle Hour for an afternoon of outdoor music, drinks and dancing. Come by boat or car, Stan's is a staple crowd pleaser for an afternoon of fun in the sun.
If you are looking for that one of a kind souvenir to take home from your Florida vacation, you can step right next door to the Island Woman.  One of the oldest family owned businesses on Marco Island, and the only known retail store on Goodland, they offer a plethora of Florida novelties.
Hungry for some locally caught seafood?  The famous Little Bar Restaraunt is a short walk away.  Sit outside and watch the local fisherman bring in their catch right off the dock!  Going into their 37th year in business, this is one we recommend you not miss!
Stan's Idle Hour
221 Goodland Drive
Goodland, FL 34140
239-394-3041
Fia's Island Woman Botique
217 Harbor Place
Goodland, FL 34140
239-642-6116
Little Bar Restaurant
205 Harbor Place
Goodland, FL 34140
239-394-5663