Marco Island Farmers Market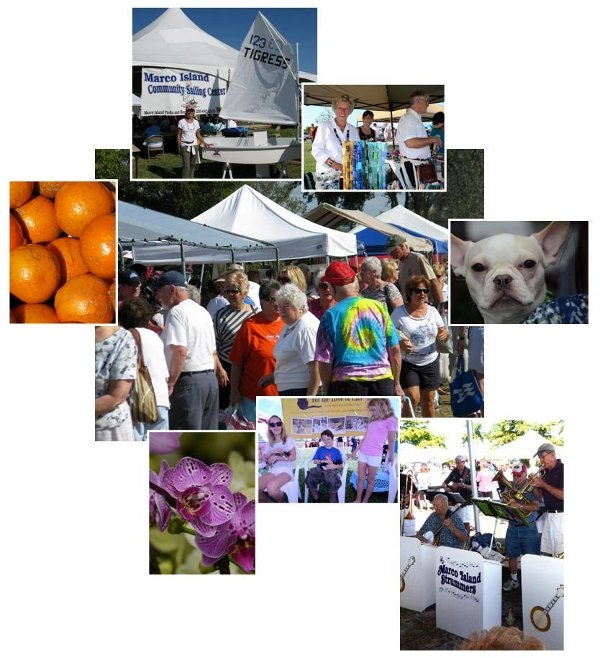 The Marco Island Experience
One of the best ways to compliment your Marco Island vacation rental experience? A trip to the Marco Island Farmers Market, of course!
Winter on Marco Island brings the seasonal market back into full swing. Hosted every Wednesday in 2018 through April 18 by the City of Marco Island, visitors can stop by the market to shop, eat, listen to live music by local local musician Grant Werner, and enjoy great conversation with locals and other island visitors from around the world.
Hosted from 7:30 am- 1:00 pm in Veterans' Community Park, visitors to the Marco Island Farmers Market can purchase items such as fresh fruit, garden vegetables, seafood, baked goods, local honey, sauces, kettle popcorn, chocolates, soaps, exotic, jewelry, and work from local artists. The farmer's market provides a wonderful opportunity to enjoy time with friends and family while spending money with local merchants for the freshest foods and unique extras.
2018 merchants include:
A Touch of Glass • Akami Accents • All American Citrus (Fresh Squeezed Juices) Andrea Cooper • Photography Anita's Guacamole • Antionio's Pizza • Arrowhead Beef Art of Steel • Arts & Flowers Co. • Aurora Fresh Produce • Bark Street Bakery • Barry Howe Photography • Better Choice Products • Bistro Soleil • Blake's Produce • Bliss Jewelry Creations Bob's Fresh Seafood • Bowknife.com • C&J Produce •Captain Ken's Seafood • Cardzbynikki Chef Paul's Fire & Rice Paella • Chef Robert's Kitchen • Chef Sebastian Mazzotta Private Dining & Catering • Cordobesita • Del & Mel Jamaican Catering • Dominga Flowers • Dutchkinz Empire Bagel Factory • Euro Fries • Evi's Bakery • Grumpy Grater • Inyoni Organic Farm JC's Daily Bread • Jimmy's Java• Katherine's Bead Designs • Kathy's Children's Wear • Kat's Southern Twang • Korean Kitchen • Kristina's Fine Art • La Montagne Des Saveurs (Cheese) Laurie's Pantry (Granola) • Lobster Rolls by Ken • Madagascar Hat Co. • Mainely Local Marco Island Florist • Marco Island Writers • Margarita's Produce • Miracles In Action Mister Crab Cakes • Mr. Fun Guy Mushrooms • My Exotic Fruits • Naples Bread & Pastries Naples Honey Company • Nico's Kitchen • Nicol Produce • Nina's Naturals Glycerin Soaps
We Welcome You!
The Marco Island Farmers Market welcomes you, your well-behaved pets, and all your family and friends! There's ample parking for bikes and cars, and friends you haven't met waiting for you, too. We look forward to seeing you there!