Marco Island Guide: Flamingo Magazine Explores Florida's Southwest Coast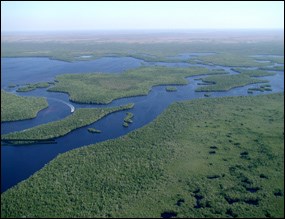 This month, Flamingo Magazine published an official guide to southwest Florida's outdoor scene. Our area, described by the publication as a "remote, magical wilderness" is home to the Ten Thousand Islands, a 35,000-acre labyrinth of mangrove islands located inside Everglades National Park is home to freshwater and saltwater marshes, brackish ponds, winding channels, sandy beaches, and shallow bays. Considered one of the world's most mysterious places, exploring the Ten Thousand Islands is easy when you vacation in Marco Island.
Flamingo provides a detailed guide to exploring this unique landscape by kayak, boat, and foot.
The publication reads:
"If you're unfamiliar with it, the uninhabited islands and mangrove clusters might seem challenging to explore on your own. But if you're open to adventure, there are simple and exciting ways to see it."
When it comes to exploring our area from the water, there are several local options for kayak rentals. A fun and low impact paddle to local uninhabited islands just off the coast of Marco Island yields beautiful scenery and unbelievable animal encounters with sea birds, dolphins, manatees and more.
If you would prefer to travel into more remote areas of the Ten Thousand Islands, guided boat tours will navigate through mangrove tunnels and open water while answering all of your questions and transporting you back to a time when the native Calusa roamed these waters. Many tours will also allow you to go shelling on islands untouched by human hands.
The Ten Thousand Islands can also be appreciated on foot. Located a short drive east from our barrier island on the edge of the Everglades, The Marsh Hiking Trail, is the perfect location to get up close and personal with the mainland portion of the Ten Thousand Islands. The 2.3-mile walking trail is home to a stately observation tower that bird watchers and photographer are sure to love.
Read the full article from Flamingo Magazine at www.flamingomag.com.
Flamingo is a sophisticated, quarterly feature magazine and website covering people, travel, outdoor pursuits, food, conservation, culture and style across the state of Florida. An unmatched combination of meaningful narratives, serious reporting and beautiful images elevates Flamingo above other lifestyle and general interest publications in the state. Flamingo, in print and online, will be the authority on living an authentic Florida lifestyle, from Pensacola to Key West and all points in between.