Marco Island is on golf's Leader Board again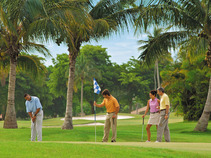 Marco Island often is joined with Naples, FL when viewed from a national perspective. As those who have stayed in a Marco Escapes exclusive vacation rental property will attest, the Marco Island /Naples "Metro" Area offers a wide range of world class entertainment and recreational attractions. Now, Marco Island and Naples are being recognized as a contender in the USAToday 10Best Readers Choice Travel Awards. The Awards' 10 Best expert panel has included Naples & Marco Island on the list of finalist for being one of the 10 best golf destinations in the world.
The area is "… is sunny and warm year-round, and holds nearly 100 courses – a mind-boggling number, drawing players from around the globe" according to USAToday. Here's the best part: You can play a role in the final selection. Visit http://www.10best.com/awards/travel/best-golf-destination/ to vote for your favorite golf destination. You have until midnight Monday, April 21, 2014
And, rest assured that you will be in good company when you cast your vote for Naples/Marco Island, also known as Florida's Paradise Coast. Earlier this year, in a separate competition, the International Association of Golf Tour Operators (AGTO), the Paradise Coast (Marco Island and Naples) to be the 2014 Golf Destination of the Year for North America.