Marco Island Seafood Festival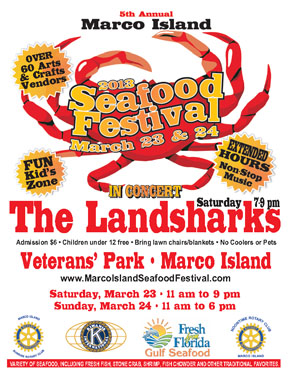 Marco Island – Marco Escapes in particular – is an excellent place to 'Escape' to under any circumstances, but with the Marco Island Seafood Festival on the menu this month, we may need to start saying it's a delicious place to Escape to!
The annual Marco Island Seafood Festival on March 23 & 24, 2013, is an event that Marco Island residents and visitors look forward to every Season.
Each year gets better than the last. How much better can it be? Well, here we are in the heart of Southwest Florida's Gulf of Mexico seafood bounty, so you know the food is fresh and scrumptious. The entertainment? Non-stop music from 11am to 9pm, featuring The Landsharks, on Saturday and 11am to 6pm on Sunday. There will also be more than 60 arts and crafts vendors and a special kid's fun zone, all on the grounds of Veterans' Park on Marco Island.
Be sure to bring your appetite, and lawn chairs or blankets. Sorry, pets and coolers are not allowed.
Admission is $6.00 per person, children under 12 are free.