May After Five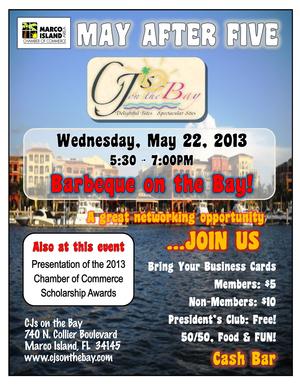 Are you a visitor who likes to get into the "local scene"?
If you're here on the 22nd of May, the Marco Island Chamber of Commerce has an event for you. It's the Chamber's May After Five get-together featuring "Barbeque on the Bay". The venue is CJ's on the Bay, 740 North Collier Boulevard.
Chamber events any where are excellent ways to get the character of a place you are visiting. On Marco Island, you will meet local merchants, restauranteurs, hoteliers and more. And you will find them exceptionally hospitable. After all, if you are here for short period or mid-stream in that process known as "I could live here some day", these people want get to know you and find out how they can serve you.
So pencil May 22 on your calendar and plan to be there. If you are already a Chamber member, the fee is $5. If you are not a member, it's $10. If you are staying in an elegant Marco Escapes rental vacation home, be sure to tell that to the people you meet.