November Events on Marco Island: Goodland Civic Association Holiday Bazaar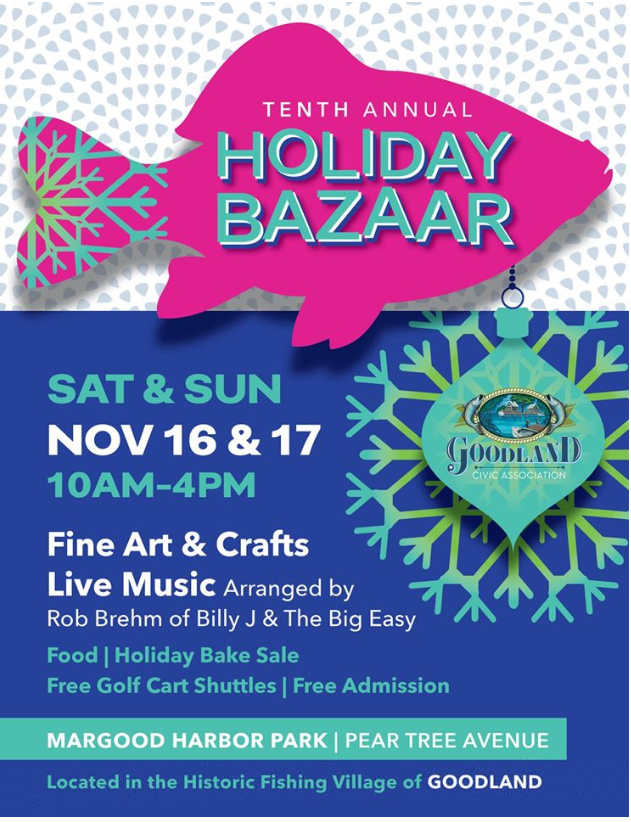 Kick off the holiday season in one of the most unique local destinations, nearby Goodland, Florida, celebrating alongside locals and visitors at the 10th annual Holiday Bazaar. Travel 5 miles east of Marco Island to this quaint fishing village, perched on the edge of the world-famous Florida Everglades.
The Goodland Civic Association will host this annual event on Saturday, November 16th and Sunday, November 17th from 10 am-4 pm, at MarGood Harbor Park. Browse unique products and locally-made goods under the palm and banyan trees, you may just find the perfect gift for your family and friends. Discover fine art, handcrafts, and more as you enjoy outstanding live music by Rob Brehm of Billy J & the Big Easy, as well as delicious local food (including seafood), and a beer and wine tent. Goodland merchandise, fifty-fifty raffle and a Holiday bake sale will also be accessible to all guests.
Music Schedule for the 2019 GCA Holiday Bazaar:
SATURDAY 11/16
Charlie Logsdon: 10am-2pm
Robert Houghtaling: 12-2pm
Allen Brothers: 2-4pm

SUNDAY 11/17
Mike McManus: 10am-12pm
Raiford Starke: 12-2pm
Ben Olson: 2-4pm
The venue, MarGood Harbor Park, holds well-documented historic and environmental significance. Today native landscaping and lovely walkways wrap around a charming harbor-front. The park also features a museum/interpretive center, 2 open-air pavilions, and kayak launch.
About Goodland, Florida: Located just outside of Marco Island, Goodland is an eclectic fishing community full of food and funky fun. Dine on freshly caught seafood as you watch the fish, shrimp, and world-famous stone crab arrive directly from the gulf. Johnny Roberts is believed to have founded Goodland in the late 1800's. He named it Goodland Point because it featured a 40-acre shell mound left by the Calusa Indians that was ideal for growing fruit and vegetables. Goodland's isolation remained virtually intact until 1938 when the main road was completed. Just like in the good old days, Goodland offers visitors a laid-back charm unlike any other place in South Florida. Visitors enjoy a simple stillness, a community frozen in time that plays host to plenty of laid back activities including outdoor music, drinks, and dancing.