See the Hidden Works of Ding Darling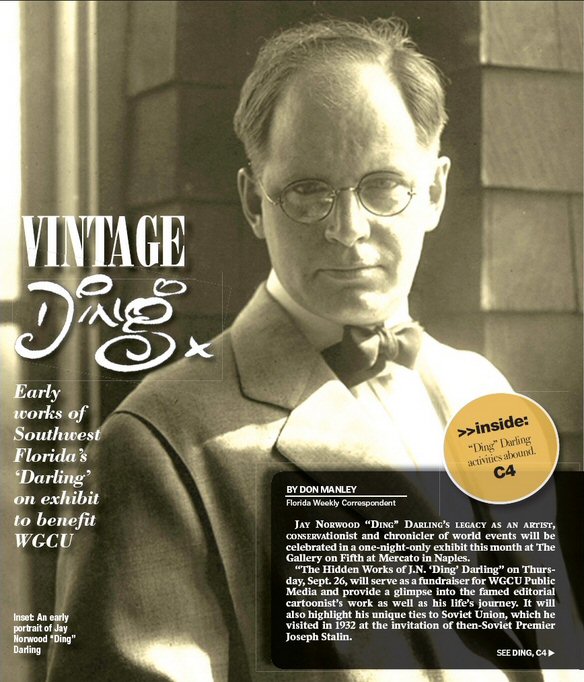 Visitors staying in a Marco Escapes property in September will have an unusual opportunity to learn about "America's Darling" and his Soviet Connection.
The name Jay Norwood "Ding" Darling is well-known in Southwest Florida. From his renown as a political cartoonist to his dedicated promotion of nature and natural preservation, "Ding" Darling, was a local favorite.  A long-time, part-time resident of Captiva Island who died in 1962, Darling's pioneering conservation efforts had a profound and lasting impact on the island and the nation. He was the driving force behind the Federal Duck Stamp Program, founder of the National Wildlife Federation, creator of the Cooperative Fish & Wildlife Research Unit Program and a key player in the creation of the America's National Wildlife Refuge System. In 1967, the Sanibel National Wildlife Refuge was renamed the J.N. "Ding" Darling National Wildlife Refuge in recognition of his conservation efforts, particularly his push to ensure the 2,200-acre refuge would be protected from development.
Less is known about Darling's travels to the Soviet Union, which he visited in 1932 at the invitation of Joseph Stalin. "Hidden Works" brings together rarely seen Darling memorabilia, such as 1920's vintage cartoon plates the artist created for the Des Moines Register, a map he used while traveling in Russia, books he purchased there and artwork, including rarely seen sketches and cartoons, along with a private collection of personal items.
"America's Darling" was also the name of a WGCU Public Media documentary that was aired during the station's pledge drive in August. The documentary triggered the interest of the gallery owner, Olga Arkhangelskaya, in staging the show as a fund-raiser for WGCU.
The Gallery on Fifth, located at 9115 Strada Place, #5130, Naples, FL features art by Russian and Russian-American artists.
The one-night-only show, "The Hidden Works of J.N. 'Ding' Darling", will take place on Thursday, Sept. 26. Admission is $50 with tickets available now online at www.wgcu.org/events or by calling 1-800-533-9428.