The Marco Players present "Absalom"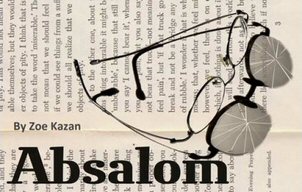 The Marco Players presents, "Absalom", a play by Zoe Kazan.
There are many interesting aspects to this work. Among them is the author's background. Zoe Kazan is the granddaughter of the renowned Elia Kazan, who directed such memorable films as "On the Water Front." Ms. Kazan's father also is a screenwriter. Her mother is a screenwriter and director. Her grandfather won three Academy Awards and was a founder of the Actors Studio in New York.
This web of authors' egos and competition apparently was fodder for Ms. Kazan's play, the title of which was taken from the name of King David's rebellious third son. It takes place when a celebrated writer beckons his family to the Berkshires to toast the publication of his memoirs. The rivalry and intrigue between his son and daughter, both novelists, another son and the writer's protege, who shows up uninvited, make for riveting dialogue and complex relationships.
Ms. Kazan denies that her story is autobiographical. But it is difficult to imagine that her upbringing did not profoundly influence her vision and her behavioral analysis of these creative personalities. To the degree it does, vacation renters in Marco Escapes properties, who attend Absalom, will have both a captivating evening of live theater and some insight into the lives Ms. Kazan's family of artists.
The play was started by Ms. Kazan as school project when she was a student at Yale and was completed as full-length play script when she was 25.
The director is R. E. Joyce, a long-time participant in the organization and presentations of the Marco Players. Performances run from November 6th through 24th at the group's theatrical venue. Tickets are $23 or $25 and may be purchased through the The Marco Players website.
Sidenote: The dialogue contains adult themes and language.