'Tis The Sea-Sun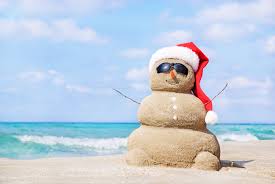 As this Jolly season approaches, we can't wait to build our sand snowmen and decorate our Christmas palms!  So pack your bags, leave the sweaters at home and get ready to spend this holiday season in abundant sunshine!  Don't worry about leaving the snow behind, our beautiful island offers plenty of merry happenings to get you in the seasonal spirit.
Marco Island's Annual Boat Parade
Come enjoy a little slice of Marco Island at the Annual Boat Parade.  This is a wonderful festive family evening for all ages.  Watch the boats sail by, decked out with festive holiday lights and decorations!
Date: December 10, 2016
Time: 6pm-9pm
Admission: Free
Recommended Viewing Spots:  The Esplanade on Smokehouse Bay and Snook Inn on the Marco River
Christmas Movie in the Park
Want to see a movie to get you in the spirit with the luxury of laying on the lawn in the Florida warmth?  Veterans Park is offering just that.  They will be showing The Year Without a Santa Claus, which is a great movie for all ages.  So bring a blanket and some snack, and see your movie Marco Island style.
Date: December 16, 2016
Time: 5pm-7pm
Admission: Free
Recommended:  Blanket and snacks of your choice
Christmas Street Parade
Enjoy the sights and sounds of the holiday season at the Marco Island Annual Street Christmas Parade!  The floats will line up on San Marco and head down towards Goodland!  Recommended to find a spot early.
Date: December 17, 2016
Time: 6:30pm-8:30pm
Admission: Free
Recommended:  Early arrival, extra parking at Publix supermarket
Naples Botanical Holiday Party
Enjoy this spectacular holiday light show featuring entertainment, family activities, festive sweets and treats and much more!  This year, Night Lights in the Garden will include their seasonal exhibit, Origami in the Garden, lit especially for the evening event, proving a dramatic view of the enchanting sculptures.
Date: December 15-23, 2016
December 26-30, 2016
January 2-4, 2017
Time: 6pm-9pm
Admission: Adults: $20
Children: 4- 14 / $7
Children under 3: free/ticket required