Unique Marco Island Experiences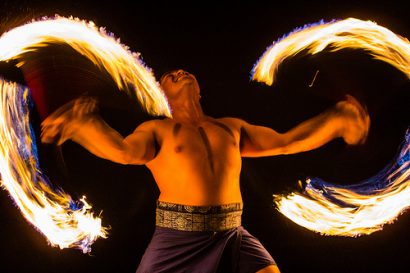 In paradise, it seems like we have it all. The sun, the sand, the surf and the serenity…
But there is more to Marco Island than what just meets the eye. Dig a little deeper and uncover exceptionally unique Marco Island experiences. Dig your toes into the sand and soak up the sun, but take the time to experience the other side of Marco you may not know about.
If you're looking for hands down, the best sunset experience, drop by Quinn's on the Beach.  Go for the food and scenic beauty but stay for the fire dancing. Every evening, just after the sun sets over the horizon, a traditional fire dancer will appear on the sand and put on a unique performance full of flames, tricks and photo ops!
Another unique activity will provide you with an entirely new perspective on Marco Island. Get a birds-eye view of our beautiful island as you float underneath a parachute. Go parasailing! Hop on a boat, put on a safety harness and allow trained captains and professionals to send you into the clouds as you take in views you won't see any other way. If you're looking to make a memory that will last a lifetime, parasailing around Marco Island is for you.
A trip to the tropics isn't truly complete until you release a little bit of your inner pirate and Pirates of Marco is here to help! Fun for the whole family, spend your afternoon aboard the Black Pearl and head out to sea. Children are provided pirate garb and face paint, and adults are provided access to a cash bar. Throughout the cruise, learn how to talk, sing, dance and play games like a true buccaneer of the high seas. End your swashbuckling adventure firing off 12 high-power water cannons at pirate enemies. This interactive pirate adventure is not one that you will easily forget.
Explore wondrous Marco Island and uncover the enjoyable experiences that make our island unique.