Wind Across the Everglades to be shown and discussed on June 11.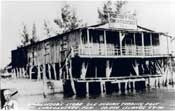 If there is a name associated with excellence in film-making, Schulberg will qualify. From famed Budd Schulberg, screenwriter extraordinaire, to producer Stuart Schulberg and Stuart's son, K.C. Schulberg, there's not a lot left wanting.
On June 11, Marco Island/Collier County motion picture fans will have an opportunity to hear K.C. Schulberg discuss Stuart Schulberg's 1958 classic, "Wind Across the Everglades" at the Collier County Museum. The film also will be screened at the event. Schulberg also will discuss his new 2014 film, "A Dream Last Night", which is scheduled for shooting in nearby Everglades City. There also will be a reception following the presentation.The program begins at 2:00 PM. Admission is free, but reservations are a must since space is limited.
For more information, please call 239-258-3738.