Do you love TV soap operas?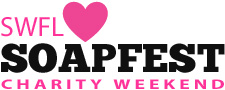 If you love or loved TV soap operas, you're going to love this weekend on Marco Island. Marco Island's Island Theater Company is presenting SoapFest from May 23 through May 26.
SoapFest is a re-union of some of the stars of the shows you couldn't wait to see the next day. Shows like Young and the Restless,General Hospital, One Life to Live, As The World Turns and Guiding Light.
Christian LeBlanc, a current member of the cast of Young and the Restless, will be in attendance, joined by Y&R alums, Jeff Branson and John Driscoll. Kristen Alderson. Chad Duell, Bryan Craig and Kelly Thiebaud of General Hospital are scheduled to join in, as are alums of One Life to Live, Melissa Archer and Eddie Alderson, and Tom Pelphrey, star of Guiding Light and As The World Turns.
There will be events on Friday, May 23, Saturday, May 24, Sunday, May 25 and Monday (Memorial Day) May 26. Events include a behind the scenes VIP Party at a private home, a "Night of the Stars" at the Olde Marco Island Inn, a cruise of the Ten Thousand Islands aboard the Marco Island Princess, a Celebrity Karaoke Bar Bash and a VIP Brunch.
Proceeds will benefit several children's charities, including Camp Able, providing educational and outreach services for children with special needs; and the Island Theater Company kids program.
For more information, including admission prices, use the internet connection in your Marco Escapes luxury vacation rental to visithttp://www.theateronmarco.com/soapfest/