Marco Island ranked 7th "happiest" metro area in the United States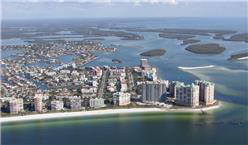 Gallup, the people who do polls and surveys, recently reported on their efforts to determine which of 189 metro areas in the United States were "happiest", based on several criteria including "wellness"
More than 178,000 interviews were conducted nationwide.
The results placed Marco Island (combined with Naples into a single metro area) in 7th place nationwide.
The survey asked people to consider a set of six sub-indices, which individually examined life evaluation, emotional health, work environment, physical health, healthy behaviors, and access to basic necessities.
Coming in 7th out of 189 is significant accomplishment, even if it has to be shared with Naples. (Marco Island actually shares many life enhancements with its neighbor to the north)
If you are fortunate enough to have stayed in a luxurious Marco Escapes vacation rental property at any time, you will have sampled the excellence that is Marco Island. We hope you took some of that "magic" home with you. Marco Escapes loves to share the goodness. After all, that's part of what brings people back season after season.