Marco Movies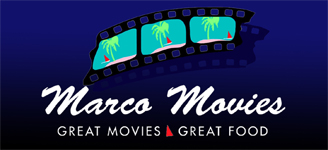 Marco Movies: For Marco Escapes guests, all that the name implies, and then some.
Watching a film on a wide screen video monitor is a popular way to spend a Marco Island evening, espcially if you are staying in a Marco Escapesvacation rental property, where wide screens are plentiful. But there is nothing quite like seeing a movie in a movie theater. That pleasure awaits you at Marco Movies, Marco Walk, 599 S. Collier Blvd.
Marco Movies bills itself as a family owned Movie Theater dedicated to showing only the best first-run movies, in a clean and comfortable environment.
Current showings include Captain America: The Winter Soldier, The Grand Budapest Hotel, Noah and Rio 2.
But, it's not all movies. Marco Movies also serves restaurant quality food, giving a new interpretation to the term, "dinner and a movie."
All menu items are made fresh to order, using only the finest, fresh ingredients, professionally prepared by Marco Movies' culinary staff.
Adult beverages also are available. So, for a change of place some day, you should consider Marco Movies while on Marco Island.
Tickets range from $8.50 to $13.50, depending on matinee or evening performances, age of attendee and if 3D projection is offered. They may be ordered online, where the showtimes are listed, or by telephone. Arrival at least 30 minutes before screening time is advised.